A couple of years back after my eBay purchase of a 1984 E30 318i with a rust-free California body but a non-running engine, I went looking for tools to remove the fan clutch. Dedicated tools are of course available, but tend to be pricey.
As I was more interested in spending money to get the engine operating properly rather than on specialty tools, I took the cheap guy alternatives. I bought a big, honking 32 mm combo wrench over eBay, then made my own tool for holding the fan. These tools have become very popular here in the local Kansas City BMW CCA chapter, and I have loaned them out for use on a variety of E30's and E36's.
Because I could, I developed the pattern for the fan clutch tool in 3D CAD, to include both the 3D model and the detailed 2D drawing. Here are photos of the 3D model, the 2D drawing, and the completed wrench set: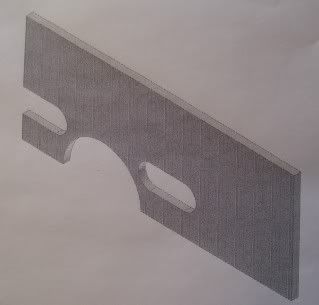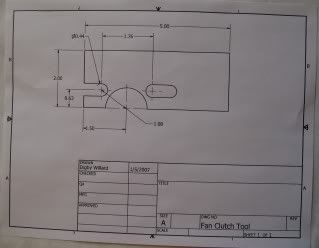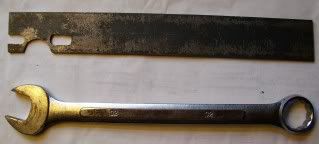 Note that in the drawing the dimension for the handle length is kept short to keep the drawing small. The actual handle length I used was 16" or so, as can be seen in the photo of the completed tool. I used 1/8" X 2" hot-rolled steel barstock, as I recall, though there is nothing magic about the numbers.
If you are interested in making your fan clutch tool, all it takes is a drill press or at least a hand drill, a selection of bits, maybe a hacksaw, and a hand file or two. It is a very low tech operation, all in all. If you should have the good fortune to have access to a small milling machine or similar, the job becomes much less labor-intensive.
Here is the URL for the drawing if you would like to download it:
http://s272.photobucket.com/albums/jj17 ... chTool.jpg
Alternately, I can fax a copy to a local KC number, or send the photo by e-mail if you are further away. If, however, you insist on a genuine, printed-out and mailed-to-you copy of the drawing, please contact me to discuss my engineering consulting fee schedule.
If I've given less information than you would like, feel free to contact me.
Digby Willard
------------------------------------